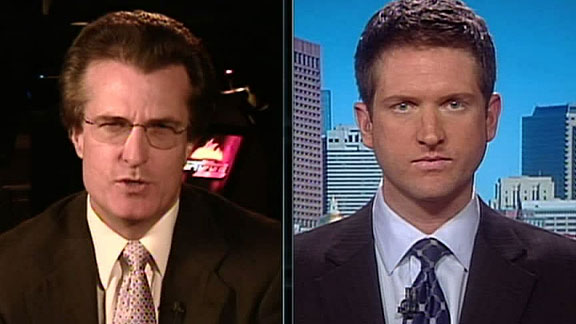 As the 2011 NFL Draft draws near, ESPN, unquestionably my favorite television network, will intensify its sometimes bombarding coverage of football's flashiest offseason event.
Last night, on a SportsCenter Special called "On the Clock" the panel of host Trey Wingo, analysts Mark Schlereth, Merrill Hoge, Todd McShay and Mel Kiper Jr. devoted a good five full minutes on the Buffalo Bills upcoming draft.
As shocked as I initially was, I realized that publicity comes with the No. 3 overall pick.
In case you missed it, here's a summary of ESPN's draft expert's said….
– Both Kiper Jr. and McShay believe the Bills should and will take Von Miller with their first-round pick and labeled pass rush as Buffalo's greatest need. McShay added that the Bills shouldn't be hesistant to draft another 3-4 OLB even after selecting Aaron Maybin in 2009. McShay finished by stating that Aaron Maybin doesn't work and doesn't want to be a professional.
– Mark Schlereth agreed with McShay and Kiper Jr. about Miller and essentially echoed their sentiment about Miller's potential as a pro. Then, Merril Hoge marked offensive line as huge need for Buffalo, and chose Boston College's offensive tackle Anthony Castanzo as the guy the Bills should take with the No. 3 overall pick. (Seriously, Merrill?)
All this was preceded by a rather ho-hum phone interview with Buddy Nix. The Bills GM ended his interview saying that he doesn't know who his team is going to draft at this point in time. (Whether you believe that or not, is obviously up to you) When the segment on the Bills was complete, I was shocked by these so-called "experts" opinions. Right now, Bills fans, would you consider pass rush as the most glaring problem facing your team in the foreseeable future? Yea, me either. How about drafting an offensive tackle with late-first round with this higly-coveted third overall selection? Didn't think so.
This might be one of those times when a blogger rushes to their computer in the heat of the moment to get his thoughts out, but this needs to be addressed and it's something that must be kept at the forefront of your minds. National analysts like Clayton, McShay, and Kiper, as informed as they are with their "inside sources" around the league, they are far from spot-on when it comes to the Buffalo Bills and what they'll do with their draft picks.
You'll form much more astute opinions by following local media in Buffalo. Can't go wrong with the people who watch and study all the Bills games, personnel and managment. National media members get an idea about a team, then re-hash everything they hear with their own spin on it. They have too much on their plate to know the nuances of every team, especially the NFL's usually forgotten team from Buffalo .
When you really need to know about the Bills, keep it local.
Great Bills resources
BuffaloSportsDaily.com, BuffaloRumblings.com, BuffaloNews.com/sports/bills-nfl, WGR550.com, nickmendola.com, BleacherReport.com/buffalo-bills (check the Featured Columnists) and hopefully you'd consider BuffaloWins.com, too